Striking Eagle Native American basketball Invitational (SENAI) and Education Fair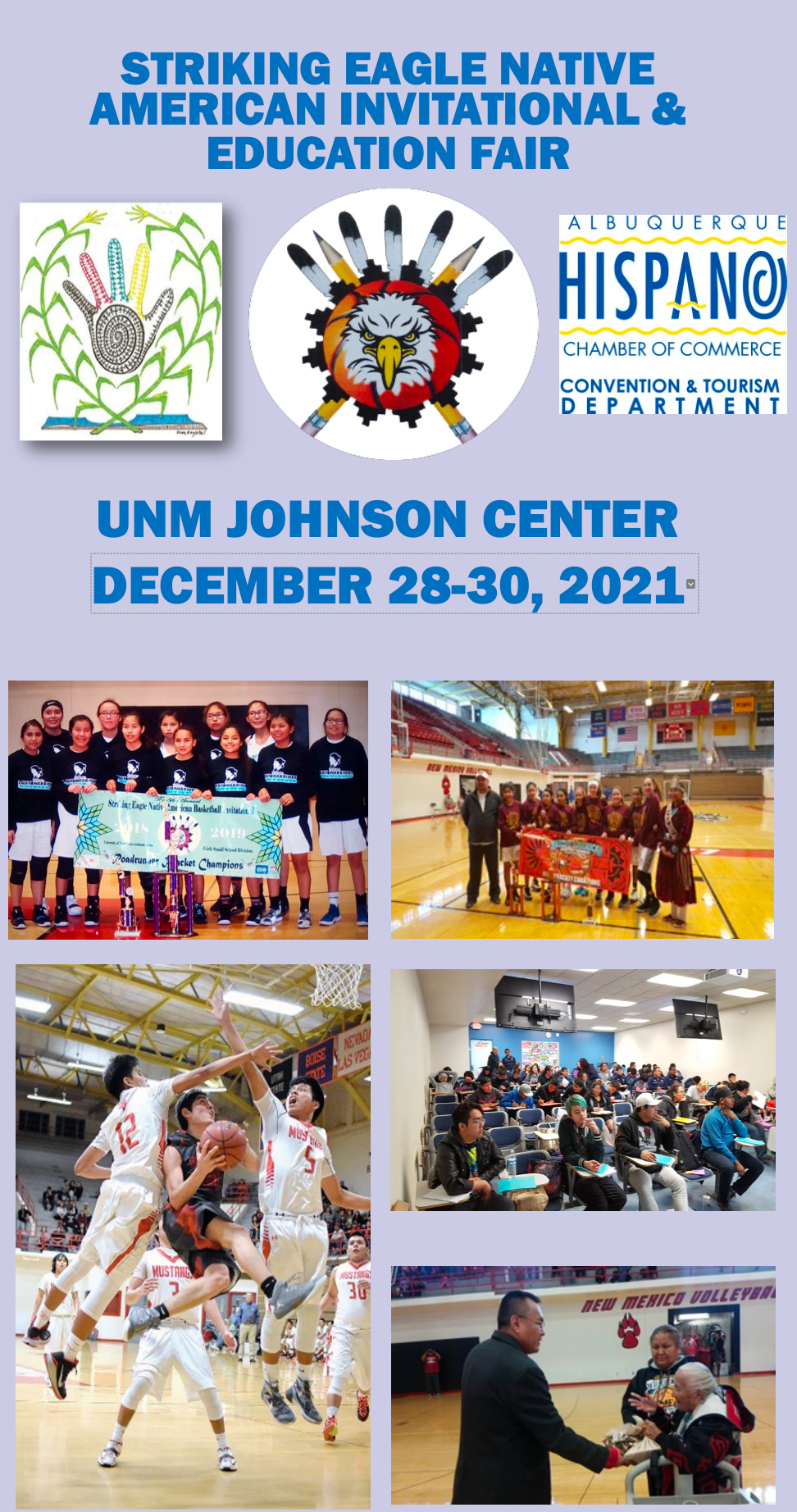 Affiliation: Teacher Education, Educational Leadership Program, Department of Health, Exercise and Sports Science
Director: Shawn Secatero, Ph.D.
Local Telephone: 505/277-6018
Address: 1 University of New Mexico MSC05 3040 Hokona Zuni Hall 388
E-mail: ssecater@unm.edu
"Celebrating A Decade of Leadership, Well-Being and Success"
The University of New Mexico College of Education in partnership with the Striking Eagle Native American Circle, are pleased to announce the sponsorship of the 10th Annual Striking Eagle Native American Invitational (SENAI) here at the newly renovated UNM Johnson Center. In the years of sponsoring our event, we have attracted over 20,000 patrons and over 3,000 students along with attracting 75 new UNM students.
The 10th Annual Striking Eagle Native American Invitational and Education Fair will take place at the UNM Johnson Arena on December 28-30, 2021.
Download the event flyer with
Important Dates, Ticketing, and Schedule of Events
Our story began in 2011 when a group of elders from the Tohajiilee Navajo Community envisioned an event that would bring together our Native communities to compete in basketball and education. The vision was passed onto Dr. Shawn Secatero and a small group of volunteers to make this event a reality. We partnered with the New Mexico Activities Association and sponsored our first event with 24 teams from New Mexico at the Santa Ana Star Center and Bernalillo HS. Due to high demand from out of state teams, the SENAI event moved to UNM Johnson Center in 2016 to promote higher education and featured 64 teams from NM, Utah, and Arizona. We added more events including an essay and logo contest in 2017 and continued to solidify our efforts to include elementary and middle school teams. In 2019, we added 7 computer scholarships for outstanding essays and also ventured out to the Lakota Nations Invitational in Rapid City, S.D. Our event mirrors this event up north as we embark on a new decade of success as the UNM Society of Native American Graduate Students will sustain this event as primary sponsors. Our SENAI event has attracted over 30,000 patrons, 400 teams, 500 volunteers, and 110 workshops in its 10 year history.
---
SENAI Strategic Vision and Goals
The SENAI planning committee has developed strategic vision and goals for our event which mirror the Lakota Invitational held in South Dakota during December. Our committee consists of several Tohajiilee community members, former basketball players, educators, and volunteers who dedicate their time to assist with the overall planning. The vision of SENAI and goals incorporate Native concepts, symbolism and well-being which include the following: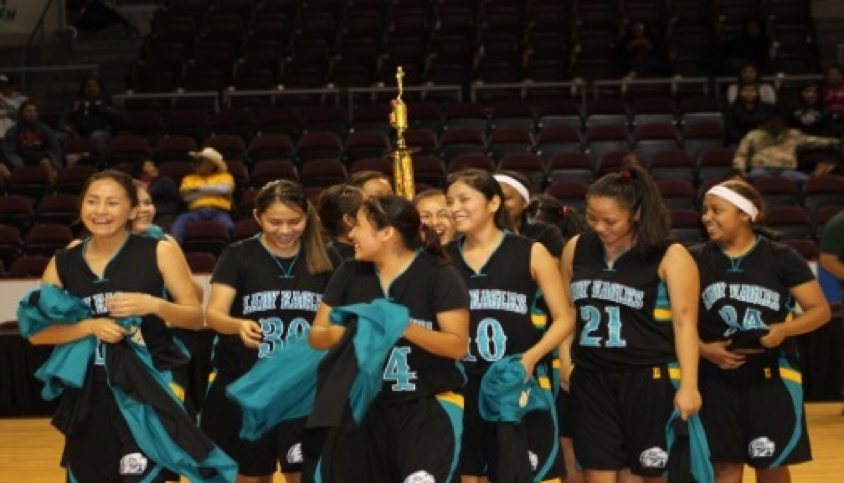 Foster a positive educational and athletic experience by being part of university campus activities and to recruit students to become part future UNM LOBOS.
Develop the attributes of spiritual, mental, social, and physical well-being attributes to foster sportsmanship and positive character among participants, coaches, and communities.
Enhance college preparatory opportunities through workshops, informational sessions, speakers, and appropriate role models.
Educate participants about health awareness issues and to promote healthy lifestyles through diet, exercise, and positive choices.
Develop a working relationship between Four Corners tribes, schools, associations, programs, and institu- tions that participate in the SENAI.
All SENAI participants must be academically eligible according to NMAA or their respective state rules and regulations to participate in SENAI. All games will count toward each teams 2021-22 basketball official schedule.
All SENAI players, families, schools, and community members must demonstrate positive sportsmanship and character as part of SENAI and rules set forth by NMAA. Participating schools outside the State of New Mexico will abide by their respective state athletic association rules and regulations.
As part of the educational component of our SENAI event, all SENAI players and coaching staff must attend at least one educational workshop per day as part of their participation. This commitment pays for each teams registration fee.
To balance athletics with academics, students participating in the SENAI Leadership workshops will learn about the holistic Corn Pollen Model and integrate well-being concepts into their own lives and focus on project based learning.
Develop a working relationship with the UNM College of Education and Human Sciences programs for stu- dent internship opportunities, courses, and service learning activities.
IMPORTANT DATES:
Team Acceptance Notifications: November 1, 2021
Team Brackets online: November 15, 2021
SENAI Circle Meeting: November 15, 2021; 4:30 pm
Coaches Meeting: November 17, 2021; 4:30 p.m.
SENAI Logo Contest Deadline: December 1, 2021
Team Rosters due: December 1, 2021.
SENAI Circle Meeting: December 13, 2021
SENAI Essay Contest Due: December 15, 2021
SENAI Volunteer Set-Up: Dec. 27, 2021; 4 pm UNM Johnson Center
SENAI HEALTH/CAREER/COLLEGE FAIR: Wednesday, Dec. 29, 2021: UNM Johnson Center 10 a.m. to 4:00 p.m.
TICKET PRICES:
ADMISSION PRICES: $10 ADULTS; $5 STUDENTS & ELDERS (OVER 60).
CHILDREN UNDER 6 FREE WITH PAYING ADULT
RE-ENTRY FEE: $5 ADULTS/$3 STUDENTS/ELDERS.
NO IN AND OUT PRIVILEGES, NO OUTSIDE FOOD AND DRINKS PERMITTED. ADMISSION INCLUDES WORKSHOP SESSIONS AT OUR LEADERSHIP CONFERENCE AND CULTURAL ACTIVITIES. ALL PROCEEDS TO BENEFIT UNM SNAGS, SENAI CIRCLE SCHOLAR- SHIPS, AND FUTURE SENAI EVENTS.
STRIKING EAGLE EDUCATIONAL WORKSHOPS - DECEMBER 28-30, 2021
Theme: "Celebrating A Decade of Leadership, Well-Being and Success"
Call for Invited Presenters: Oct. 1, 2021
Early Bird Registration Begins: Oct. 15, 2021
Deadline for Invited Proposals: Nov. 15 2021
Early Bird Registration Closes: Nov. 15, 2021
Regular Registration Closes: Dec. 7, 2021
WORKSHOPS:
CORN POLLEN MODEL WORKSHOPS
ART EXHIBITION & CRAFTS ROOM
NATIVE CULTUTRAL SESSIONS
STEM ROCKET BUILDING
SELF ESTEEM WORKSHOPS
SUICIDE, ALCOHOL, & DRUG PREVENTION
CAREER, HEALTH & COLLEGE FAIR
COVID INFORMATION SESSION
BECOME A UNM LOBO SESSION
FINANCIAL AID AND LITERACY
---
SNAGS, SENAI, & UNM AFFILIATES ARE NOT RESPONSIBLE FOR ACCIDENTS, INJURIES, OR THEFTS. SPON- SORED BY THE UNM SOCIETY OF NATIVE AMERICAN GRADUATE STUDENTS (SNAGS), STRIKING EAGLE PLANNING COMMITTEE, AND UNM COLLEGE OF EDUCATION & HUMAN SCIENCES.
FREE PARKING IN "A" LOT SOUTHEAST OF JOHNSON CENTER.