Graduation

---
UNM Spring 2023 Commencement
The main UNM Commencement Ceremony for graduate and undergraduate students will be held Saturday, May 13, 2023 at 9:00 am at Dreamstyle Arena (aka The Pit).
The UNM Commencement Ceremony is the campus-wide graduation ceremony for all students from all schools, colleges, and degree programs. Bachelor's and master's degree candidates will proceed across the stage and be recognized individually. Doctoral and terminal master's degree candidates will be hooded.
UNM Commencement Information: graduation.unm.edu
College of Education and Human Sciences - Spring 2023 Convocation Ceremony
Convocation ceremonies are celebrations hosted by individual schools, colleges, and/or departments just for their graduates.
The College of Education and Human Sciences invites graduating students from the class of Spring 2023, Fall 2022, and Summer 2022 to participate in our Convocation ceremony. Family and friends are invited to help celebrate the accomplishments and achievements of our graduates.
Students and guests should plan on arriving 30 minutes prior to the start of the ceremony. Please plan for plenty of travel time due to additional traffic in the area for other events. Graduating students will meet in a specified area in order to pick up their name card and line up for the processional in the arena, which will begin promptly at 6:00 pm.
The ceremony is a traditional graduation ceremony and will last approximately 90 minutes. There is no limit on the number of guests that can be invited and tickets are not required. When students gather prior to the ceremony, they should leave all personal belongings with their family/guests, as they will NOT return to the waiting area.
Due to the ongoing and changing requirements connected to large gatherings, please continue to check the information on the UNM Commencement website for up-to-date detailed guidance: graduation.unm.edu
The Clear Bag Policy will be in effect for Commencement ceremonies held at the Dreamstyle Arena (aka The Pit). Please read CAREFULLY.
In an effort to provide a safer environment, a clear bag policy is in place at ALL UNM Athletic events. These policies significantly expedite fan entry into all stadiums. This is consistent with all NFL stadiums and many other collegiate institutions.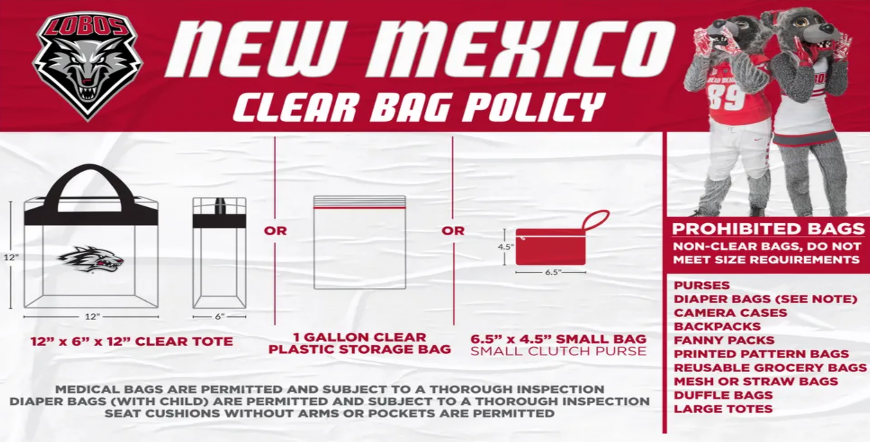 Clear Bag Policy will be in effect FOR ALL 2022-2023 sports seasons
All patrons who choose to bring bags into the game must abide by the clear bag policy
Clear Bags may be no larger than 12"x6"x12"
If patrons do not have a clear bag, they may bring in a gallon-sized freezer bag
Palm-sized clutch purses or wallets do not need to abide by clear bag policy
Non-clear medical bags are permitted and subject to inspection
Diaper bags are permitted if entering with a child but are subject to inspection
Seat cushions without arms or pockets are permitted
Backpacks, fanny packs, printed pattern bags, reusable grocery bags, mesh or straw bags, duffle bags, or large totes (larger than 12'x6'x12") are NOT permitted
If you choose to bring in a blanket, the blanket must be carried in separately and not placed in the clear bag
If your bag gets turned away at the gate due to not following clear bag policy, you will need to return it to your vehicle, as we have no area to store it
Patrons are encouraged to leave all bags at home to speed up the entry process into the stadium
Parking maps and additional information will be sent out to participating students who sign up on the graduation.unm.edu portal.
Caps, Gowns, and Tassel
We strongly encourage our graduates to wear their regalia (cap, gown and tassel/hoods), which can be purchased at the UNM Bookstore prior to the ceremony. Some students may elect to wear traditional/cultural dress, which is also allowed. We also recommend dressing in comfortable clothes under your regalia as the temperatures can be unpredictable in the arena. For all degree recipients, the tassel should be worn on left side of the cap for the duration of the Convocation ceremony since our Convocation follows the official graduation Commencement for UNM. Master's degree recipients should also wear their hoods during the procession and during the convocation ceremony.
Doctoral Graduates
Doctoral graduates should carry their hood across their arms, as they will be hooded as they cross the stage. Doctoral graduates will be hooded on stage by their faculty advisor, Department Chair, or other designee. They will also be invited to submit a brief personal statement that will be read on their behalf as they are being hooded and crossing the stage.
Special Needs
Areas on the arena concourse will be designated for wheelchairs and those needing special assistance. Plenty of handicap parking is available near the west arena entrance for guests with a valid handicap parking permit.
Parking
Free parking is available in designated parking areas surrounding the Pit for graduates and their guests. Handicap parking is available near most entrances to the arena. Please note, there are other events occurring in the area at the same time as the COEHS Convocation which will impact traffic to and from the parking areas. Please plan accordingly.
Prospective Graduates
Please check with your advisor regarding your progress toward degree completion.
Graduates are encouraged to attend both the University Commencement Ceremony and their Convocation ceremony. However, graduates may elect to participate in just one ceremony of their choosing.
Summer 2022 and Fall 2022 Graduates
Graduates from Summer and Fall 2022 are also invited and encouraged to participate in this Convocation celebration.
Diplomas
Graduating students will not receive their official diploma at the graduation ceremonies and are not required to attend a graduation ceremony in order to receive their diploma. Official diplomas will be mailed to the address on file with the Registrar, 6-8 weeks after the end of the semester when degrees are officially verified and awarded. For additional information please visit the Office of the Registrar website at https://registrar.unm.edu/forms/
Additional Information
For any additional questions or information, please feel free to reach out to 505-277-2231 or coe@unm.edu.