Get to Know the Family & Child Studies Program
Posted on November 25, 2020
The Family and Child Studies program focuses on understanding the complex influences, relationships, and ecologies of development across the lifespan. The program prepares students to promote the optimal well-being of families and individuals, recognizing that characteristics and needs of families change across the lifespan and within multiple and diverse contexts. Families provide children's first learning environments, which impact children's education and learning throughout their lives. The preparation of professionals in education is grounded in the deep understanding of families and children. Graduates of the program earn a B.S. in Family and Child Studies and choose between three undergraduate concentrations that prepare students for a variety of careers working with youth and families! Complete programs of study for each of the three undergraduate options are available from the program office in Simpson Hall.
Early Childhood Multicultural Education – License. This pathway is a state licensure pathway that prepares teachers for pre-k through grade 3 with a focus on culturally competent early childhood education. The licensure pathway requires 74 credits and Student teaching. Graduates are eligible to obtain New Mexico Professional Licensure Pre-K to Grade 3.
Early Childhood Education and Development. This pathway focuses on early childhood and prepares students for a variety of careers working with young children and requires 69 credits.
Human Development and Family Relations. This pathway focuses on development across the lifespan and emphasizes how social relationships shape development and requires 67 credits OR 49 credits + Minor. Graduates have the Option to become nationally-certified Family Life Educator (CFLE).
If you have questions about the Human Development and Family Relations and Early Childhood Education and Development pathways please contact Dr. Ryan J. Kelly (
ryankelly@unm.edu
). If you have questions about the Early Childhood Multicultural Education Licensure pathway, please contact Dr. David Atencio (
atencio1@unm.edu
).
Meet Irene Cantu, M.A. Family & Child Studies Student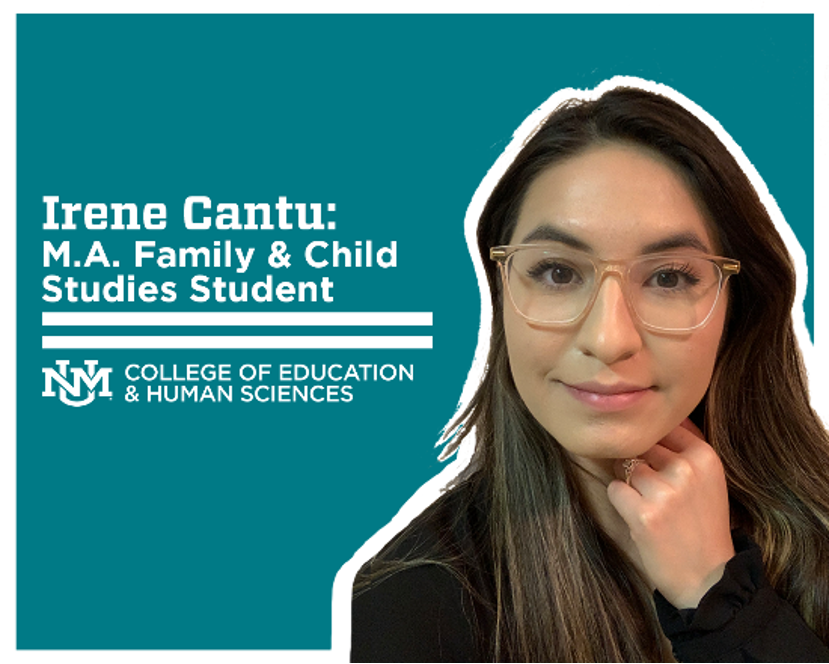 We asked Irene Cantu about her experience as a graduate student in the Family & Child Studies program.
Where are you working now / what did your studies focus on?
I work with UNM Peds LARC Mentoring Program as a Graduate Assistant. This job allows me to connect with rural organizations in New Mexico to increase access to contraception to their communities. We provide devices and training for physicians and clinics in NM who desire LARC experience. I also assist with evidence based LARC and contraceptive counseling trainings, conduct literature reviews, evaluate data, and coordinate virtual trainings I am currently obtaining my Master's in Family and Child Studies with a concentration in Human Development and Family Relations. I chose to complete the thesis tract and am evaluating data from a sexual health intervention. My thesis will look into sexual and reproductive autonomy for youth of color under a psychological empowerment and strengths-based perspective.
What I absolutely love about the program is the flexibility that the finals provide. Every student is able to take the information we learn from the semester and apply it to our interests. This has allowed me to apply the knowledge I learn into adolescent reproductive health and public health research.
What drew you to Family and Child Studies initially? When did your journey with this field start?
When searching for a program before graduating with my second bachelor's degree, I received an email about the Family and Child Studies Master's Program. After looking into the program and what it had to offer, I immediately felt connected with their mission and applied.
With the nature and dynamics of human development and family relations, the program stood out to me as one that will provide me with a solid foundation in child and family welfare. My future goal is to be a primary care physician and it was important to me that I expand my knowledge in this field. It was my hope that the intradisciplinary and multidisciplinary focus of the program would allow me to become a more well-rounded healthcare provider in the future.
What are some of your favorite memories with the program?
My favorite memories in the program are the writing groups that I was able to participate in and the times that really challenged me in the program. During my undergrad in Biology and Psychology, the class sizes were always very large, there were very little class discussions, and writing was not a skill I developed. So, when I was introduced to Family and Child Studies and graduate school, it felt brand new. I love that my perspective and experiences have meaning in the classes that I am taking and that I get to learn from the experiences of my classmates. I also appreciated the writing group support. Having writing and tea time with a supporting professor, while getting much needed academic and personal support from my peers was absolutely amazing. The passion, support, and consideration I obtained throughout the FCS program from my professors and peers is what I love the most.
The advice that I would give to someone starting off their academic and professional career with FCS is to discover your passion within the field and know that you will always be supported throughout the program. The individuals who are academics and work within the field of FCS do so because they want to support others. So, the wonderful people you will meet, will always be there to support you and your passion.