Get to Know the Exercise Science Bachelor of Science Program
Posted on September 11, 2020
Exercise Science prepares students for careers in physical therapy, occupational therapy, personal training, and strength and conditioning. Our Exercise Physiology laboratories are a hub for research and educational activities conducted by faculty and students in the program.
The mission of UNM's Exercise Science program is to provide our students with the didactic, experiential, and ethical foundation in the study of human physiology and movement necessary to succeed in their choice of career, professional field of study, and advanced academic work. This mission is achieved through engaging lectures, hands-on laboratory instruction, scholarship, and service-learning. The program is designed to promote and develop critical thinking, laboratory skills, effective communication skills, and a passion for lifelong learning.
The undergraduate and master's programs prepare students for continued education in Physical Therapy, Occupational Therapy, nursing, medicine, or clinical research, as well as to function professionally as exercise physiologists/scientists in health/fitness clubs, corporate health promotion programs, academic, and clinical settings.
Program Admission Requirements
The Bachelor of Science Degree in Exercise Science is a 120-credit hour program. Admission to the program requires
a 3.2 GPA,
completion of BIOL 2210/2210L and
current certification in First Aid, CPR and AED (obtained from HLED 1120 at UNM or an outside organization).
Students must complete the pre-requisites for all Exercise Science classes and meet with Dr. Kravitz. For more information visit the Exercise Science webpage.
Meet Our Students
We asked two students about their experiences as Exercise Science students. Koran Sherman is currently an undergraduate and Zack Mang a Ph.D. student.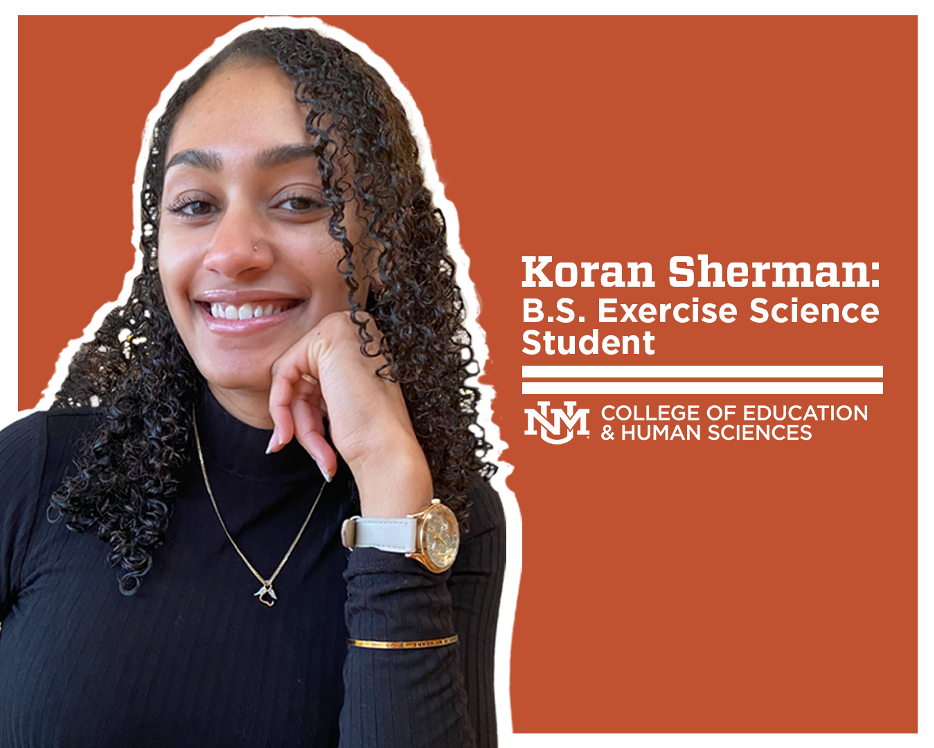 Why did you choose Exercise Science? What are your goals?
I chose to get a degree in Exercise Science because growing up, I was always so fascinated by the human body and how it functions. I also happen to love long distance running and exercise, so studying Exercise Science seemed like the perfect way to make my two biggest interests meet!
My goals with this program are to get involved in research within the Exercise Science department at UNM and in the future, apply to medical school and continue to advance my knowledge of the human body.
What advice would you give a prospective student looking to major in Exercise Science?
The advice I would give to a prospective student looking to major in Exercise Science is to not be afraid to ask questions! Curiosity is so important as a college student, especially in the Exercise Science program. I learned a little late in my undergraduate career that information becomes even more valuable when you focus more on understanding rather than memorization. I believe anyone can read a textbook and memorize things but being able to make connections to the world around you is such an important skill to have.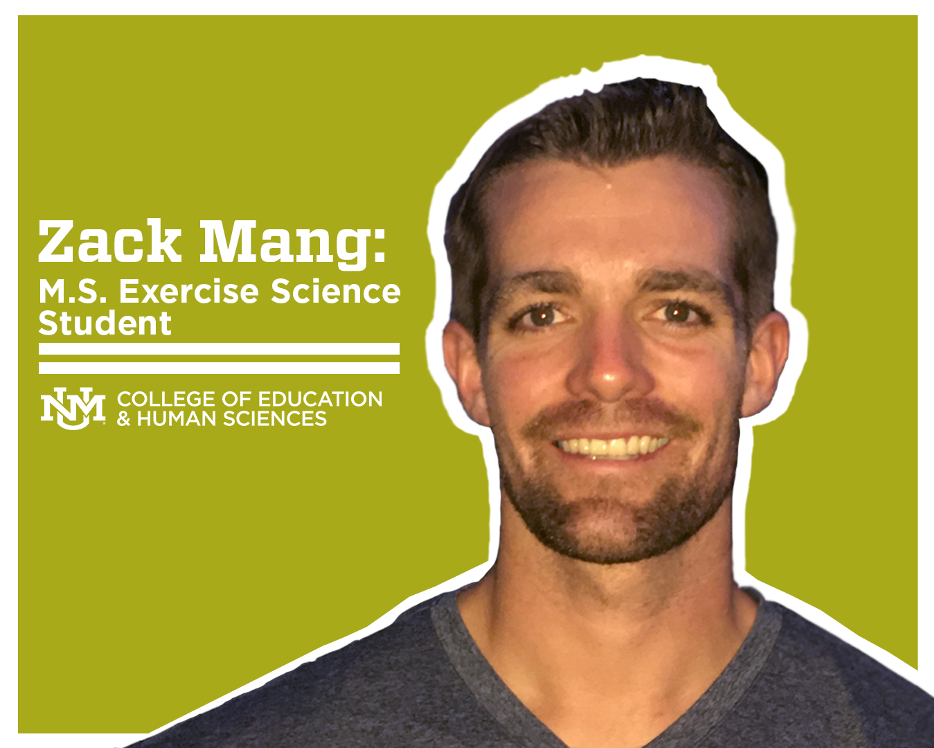 Why did you choose Exercise Science? What are your goals?
I chose Exercise Science because I started to work for the Los Alamos National Laboratory Wellness Center in 2014 where my mentor was a graduate from the UNM exercise science program. He introduced me to several applications of exercise science such as VO2max testing, resistance training periodization theories, and functional movement assessment for structural fire fighters. I had no formal exercise science education at the time but became completely consumed by our daily operations and wanted to learn more about the physiology that underpinned our fitness assessments and exercise prescription. I applied to the UNM Exercise Science program in the Fall of 2015 and haven't stopped going to school since.
My current goals are to pass comprehensive exams this Fall (fingers crossed) and finish my PhD by next spring. Of course, many things are uncertain with the current pandemic, but hopefully we can collect data and publish meaningful research soon.
What's your favorite memory within the Exercise Science program?
In the Fall of 2019 I did a joint presentation at the New Mexico Strength and Conditioning Convention with my friend and colleague Rogelio Realzola (also a PhD student in our program) on the theory and application of various resistance training modalities to improve various markers of metabolic and cardiovascular health. This is a great memory because it was the first time in my career that I shared data from my own research with fitness professionals, which consummated my primary goal as a researcher: translating science to practice. Conversations between academics and practitioners are invaluable, and it is paramount for all of us to help bridge the gap. Also, thanks to a slight stutter, I used to be terrified of public speaking as a high school and undergraduate college student, and I never imagined that my career would involve any form of teaching, much less presenting at conferences. Sometimes it feels like we don't get to celebrate many victories in academia, but that day simply felt great. 
What advice would you give a prospective student considering a major in Exercise Science?
I would advise prospective students to find an internship that allows them to work in the field before/during their time in an exercise science program. As it should, exercise science will take you down several rabbit holes of biochemistry, physics, and physiology, and it becomes easy to immerse yourself deep in the science while forgetting the exercise. By working in the field and coaching real clients, you will learn how to apply the principles of exercise science to help people meet their goals. I believe that whether you want to be a personal trainer, physical therapist, or strength/conditioning coach, much of your success will stem from your ability to translate science to practice, and to teach people how/why they are doing certain things. The exercise science program at UNM is top-notch, and your education will provide you with many tools, but I firmly believe that field experience will help you learn which tools to use and when to use them.