Judy Zanotti to Receive Honorary Doctorate from the University of New Mexico
During the commencement ceremony for Fall 2021, the University of New Mexico (UNM) will present an honorary doctoral degree to UNM alumna Judy Zanotti (MA, Special Education; BS, Business with minor in Government). Judy was nominated for the honor by a committee comprised of UNM and community leaders led by Maryann Trott, chair of the Friends Board and Alumni Chapter for the College of Education and Human Sciences (COEHS). The nomination was supported by letters of recommendation that cite a common theme of strong ethics, exceptional leadership skills, selfless work on behalf of UNM and community organizations, and advocacy for children with disabilities.
Now retired, Judy has represented UNM well through a distinguished career that included serving as senior vice president of Public Service Company of New Mexico (PNM), executive director of the State Bar of New Mexico, and president of New Mexico First. She has also served on the boards or committees of numerous organizations, including Women's Economic Self-Sufficiency Team (WESST), SHARE New Mexico, World Vision/Women of Vision Albuquerque, Young Women's Christian Association, Carrie Tingley Hospital, National Hispanic Cultural Center, Association for Commerce and Industry, Diabetes Association, Santa Fe Opera Guild, UNM Anderson School of Management, UNM Foundation, UNM Alumni Association, the College of Education and Human Sciences (COEHS) Alumni Chapter, and the Lobo Club.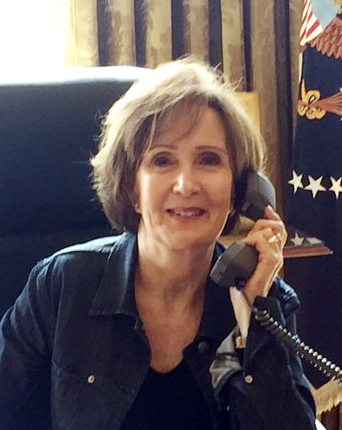 Advocate for Special Education
Judy is perhaps most recognized for her work on behalf of individuals with disabilities. Dr. Katharine Winograd, President Emeritus of Central New Mexico Community College (CNM), described Judy as a "pioneer and champion in the cause to provide students with disabilities in our state with the kind of support and education they need and deserve." Judy is credited with helping to lead the historic effort to compel the State to comply with a federal law, the Education for All Handicapped Children Act (PL 94-142, 1975), which required public schools to provide a free and appropriate public education to students with disabilities. By refusing to follow the law, the New Mexico Department of Education had also refused federal funding to support compliance.
The lack of federal funding not only affected students but also special education teacher training. Without compliance with the federal mandate, few schools offered special education, which resulted in few opportunities for special education teachers in New Mexico. In a vicious cycle, the lack of special education teachers severely limited the educational opportunities for students with disabilities.
As the mother of a child with severe learning disabilities, Judy knew first-hand the importance of the federal law. She founded and served as executive director of the Albuquerque Association for Children with Learning Disabilities. Judy was a leading component of a coalition of parents, educators, and UNM special educators that mounted a grass-roots effort, funded by bake sales and car washes, to convince state leaders to comply with PL 94-142. Eventually, with the help of two young lawyers who waived their fees, the group sued the State of New Mexico in 1975. The group eventually won the legal battle. In 1984, the New Mexico Legislature passed a law directing the State Department of Education to comply with PL 94-142 and apply for the federal funding, the last state in the country to do so.
A Servant-Leader
Professor Ruth Luckasson, Department Chair of Special Education at UNM, described Judy's ability to organize, communicate, and motivate as that rare gift of being able to express deep and sincere caring. People want to follow her. She has "vision and recognized generosity," Luckasson said. "People know that when Judy stands for something, it is the right thing. People want to be a part of it." This sentiment is echoed by many.
Judy is quick to deflect attention from herself however. She said that she felt "truly overwhelmed" and "very humbled" when selected to receive the honorary degree from UNM. Referring to the list of her achievements in the nomination, she stressed that many of the nominating committee members had worked alongside her on all of those significant projects. "None of those things are a one-person effort," she said. "I know that it is a cliché, but it really is true that it takes a village."
Describing herself as a "servant-leader," Judy said that she often finds that she learns as much from those she is leading as she gives to them. She believes in listening carefully to the opinions and thoughts of others without rushing to judgment. She also noted that she is something of a diplomat, wanting to ensure that everyone feels included and valued.
Judy credits her family's values for shaping her leadership style. Born in Gallup, New Mexico, she has spent most of her life in Albuquerque. She was raised by a single mother and by grandparents who had immigrated from Italy. "My grandfather was so proud to be an American," she said. He instilled in Judy the importance of learning from others and working with others in order to accomplish common goals.
Over the years, Judy has put her leadership skills into practice over and over. One of her most enjoyable roles, she said, was serving five years as president of New Mexico First, a bipartisan organization co-founded in 1986 by U.S. Senator Jeff Bingaman (retired) and the late U.S. Senator Pete Domenici. This listening group brought together diverse people from throughout the state to share ideas and opinions about specific issues. The group was predicated, Judy said, on the idea that "we may not agree with each other, but we have heard and understand each other."
Judy takes "an ethics-based approach to all that she does," stated Mr. D. F. "Duffy" Swan, former Chairman of French Funerals and Cremations. Citing her work as an advocate for students with disabilities, women, minorities, veterans, and UNM, he stressed she has undertaken often difficult tasks because it was "the right thing to do."
Judy "puts her faith into action," said Trott. "She has a deep Christian faith and 'puts feet to it,'" she added. That faith in action led to fundraising work to help women and children in the countries of Honduras and Rwanda. She has hosted several fundraising and awareness events to support World Vision/Women of Vision. In 2018, she and her husband traveled to Rwanda to support efforts to bring clean drinking water to the impoverished country still recovering from the 1994 genocide.
A Lifelong Lobo
In Judy's immigrant family, education was highly valued. As a freshman at UNM, she was "excited and thrilled" by what she was learning but also by opportunities for leadership. She pledged a sorority that encouraged her to take on leadership positions. "UNM changed my life," she said. Doors continued to open, and additional leadership opportunities at UNM began to come her way, something that has not abated for four decades, she noted. Described by Karen Abraham, EdD, as "the best and most enduring ambassador the University has ever had," Judy has just completed her terms on the Friends Board and Alumni Chapter for the COEHS and as a trustee for the UNM Foundation.
Dr. Viola Florez, Professor Emerita and former dean for the COEHS, described Judy as "a Lobo at heart" who "continues to support the mission and values of the University."
In all that Judy does, she "brings a lot of gravitas" to every role or project, said Maryann Trott. "She knows everybody in town." Friends and colleagues describe her as a genuinely kind and caring person whose sincerity encourages others to support whatever cause she is championing.
As a strong supporter of UNM, and especially of the COEHS, Judy has endowed or supported several scholarships. In 2020, Judy spearheaded an effort to establish the Professor Ruth A. Luckasson Endowed Scholarship in Special Education. Trott recalled that "Judy almost single-handedly" convinced community members to donate money for the endowment of the scholarship.
In 2018, Judy endowed the Scott C. Cantwell Endowed Scholarship in Special Education, which is named for one of her three sons. Scott was diagnosed at a young age as having severe learning disabilities. With the support of dedicated special education teachers, he was able to develop skills that led to a 33-year career with Albuquerque Public Schools (APS).
Judy established the scholarship to honor Scott's hard work and generous nature, as well as all of his special education teachers who "focused on the things he could do" and "made him feel valued and important in his own right." She also wanted to honor supporters and advocates, such as Professor Luckasson and the late Dr. Jane Blumenfeld. Blumenfeld, a former UNM special education adjunct professor and APS administrator for special education, who gave him his first job with APS.
Enthusiastic Support for Nomination
The effort to nominate Judy for the honorary doctorate received enthusiastic support, said Maryann Trott. "Everyone cooperated immediately," she said. The nomination documents cited Judy's qualities and work, not only on behalf of UNM but also for the community of Albuquerque, the State of New Mexico, and beyond. Ted Martinez, President Emeritus of CNM and a UNM alumnus, wrote the letter of nomination which is supported by letters from Trott and 13 other university and community leaders. The list of supporters included Dr. Karen Abraham, State Representative Gail Chasey, Dr. Viola Florez, Women of Vision volunteer Joyce Godwin, Professor Ruth Luckasson, Anderson School of Management Dean Mitzi Montoya, WESST President Agnes Noonan, Dr. Salvador Hector Ochoa, UNM COEHS Friends Board Treasurer Marta Osuna, People Ink President Ann Rhodes, D. F. "Duffy" Swan, UNM Foundation President and CEO Jeff Todd, and Dr. Katharine Winograd.