Teacher Residencies at UNM COEHS
The College of Education & Human Sciences (COEHS) at the University of New Mexico (UNM) is excited to expand its teacher residency partnership for the 2022-2023 academic year. With anticipated funding from HB 13 "Teacher Residencies," the COEHS is partnering with several surrounding districts and charter schools to prepare teachers specifically to teach in these programs.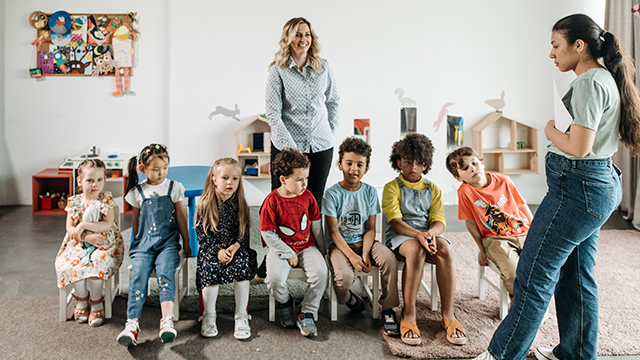 Funding from HB 13 provides a $35,000 stipend for all teacher residents for their final, full year of clinical experience alongside highly skilled co-teachers. The partnering district or charter school agrees to hire each teacher resident as a full-time teacher-of-record beginning in Fall 2023. In return, each teacher resident agrees to teach in the same district or charter school for a minimum of 3 years.
"Before paid teacher residencies, many student teachers went into great debt to become teachers," said Hansel Burley, Dean of the COEHS. "The old system that increased student debt was a complete disincentive to becoming an educator of a child or youth. Now, paid residencies free student teachers to focus on being the powerful and positive instructors and motivators that New Mexico needs. This is a huge step forward."
New Mexico is a leader in the country in providing statewide funding for teacher residencies. The key components of residencies are a full year of clinical preparation in a partnering school or district and a living stipend. The COEHS has a five-year history of implementing a teacher residency with Albuquerque Public Schools, the Albuquerque Teacher Residency Partnership (ATRP). In February 2022, ATRP was recognized as the Billy G. Dixon Distinguished Program in Teacher Preparation by the Association of Teacher Educators. The UNM District Partner Teacher Residencies is building on this success to expand residencies throughout Central New Mexico and Gallup.
College of Education & Human Sciences is partnering with these District Partners to develop the COEHS District Partner Teacher Residencies:
Albuquerque Public Schools
Belen Public Schools
Gallup-McKinley County Schools
Los Lunas Public Schools
Rio Rancho Public Schools
Robert F. Kennedy Public Schools
Siembra Leadership Academy High School
If you are interested in becoming a teacher resident, please visit this website https://coehs.unm.edu/departments-programs/teelp/teacher-residencies/index.html.