Jay Parkes, PhD
Associate Dean for Undergraduate and Graduate Education
Professor, Educational Psychology
---
TEC, 3rd floor

505 277-7919

Ph.D. in 1998 from the Pennsylvania State University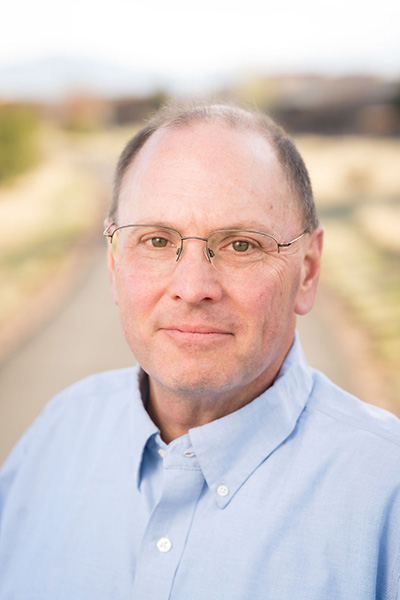 ---
Dr. Parkes is the new Associate Dean for Undergraduate and Graduate Education. As an Associate Dean, he hopes to reduce bureaucratic hurdles for students and their instructors to make their experience at UNM a little easier. For Dr. Parkes working with and for students is very exciting!
Dr. Parkes, whose parents were public school teachers, was born and raised in Philipsburg, Pennsylvania. He completed his undergraduate work in English Education at the Indiana University of Pennsylvania. After teaching secondary English in Pennsylvania for a little over a year, he continued his studies at the Pennsylvania State University. While pursuing his Master's and Doctoral Degrees in Educational Psychology at PSU, his interests evolved from how people learn to assessment of learning before crystalizing into the idea that assessment is a cognitive act.
In 1998, Dr. Parkes moved to New Mexico to be an assistant professor of educational psychology here at COEHS. Dr. Parkes' recent scholarly work has focused on helping college instructors design better assessments. This work has led to collaborations with faculty at UNM, including the School of Medicine, and other institutions, such as Northern New Mexico College.
Since arriving in New Mexico, Dr. Parkes has allied and worked with dual language educators in the state. He has worked with the nonprofit Dual Language Education of New Mexico, both formally as a board member and informally in other roles. Dr. Parkes contributed to early drafts of what are now the Guiding Principles for Dual Language Education; hosted a dual language researchers' convocation to identify key research questions in the field; and worked with a consortium of dual language elementary schools in Albuquerque to do a survey of families.
Outside of his scholarly work, Dr. Parkes works hard to be a good dad and husband. He keeps his household moving while his wife and children are out and about. One of his hobbies is preparing meals for his family and mastering New Mexican dishes is an ongoing goal. He has red chile, green chile, enchiladas, and posole recipes that his whole family enjoys. He's on his way to mastering New Mexican cuisine!
Coming from Pennsylvania and living in Santa Fe, Dr. Parkes truly appreciate the way snow visits but doesn't stay long. Santa Fe is warm but not too hot in the summer and cool but not too cold in the winter. He loves sunshine most days and treasures the cultural and historical richness of New Mexico.
Dr. Parkes' likes to read history and biographies. He'd love some recommendations for books you have enjoyed! A few of his recent reads:
Thomas Cranmer by Diarmaid MacCulloch (currently reading as of 2/1/21)
A Land Apart: the Southwest and the Nation in the 20th Century by Flannery Burke
The Myth of Santa Fe: Creating a Modern Regional Tradition by Chris Wilson
In Search of the Old Ones: Exploring the Anasazi World of the Southwest by David Roberts
Nelson: Love & Fame by Edgar Vincent
Recent Publications
Research & Scholarly Interests
Learning and Assessment
Simulation and Feedback in Medical Education
Dual Language Education Research
---