1st Native American Leadership in Education (NALE) Doctoral Cohort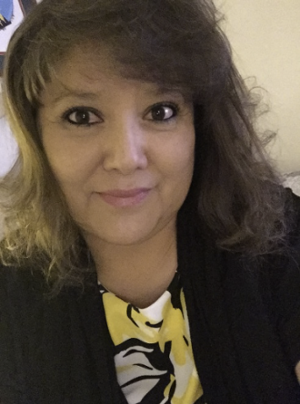 Ya'ah teeh, my name is Ms. Deborah J. Belone. I am a Navajo, originally from Tsaile, Arizona and currently reside in Farmington, NM. As a Navajo woman, I am from Kiyaa'anii (Towering House), born for Hashlishnii (Mud), maternal grandparents are Tohtsonii (Big Water) and paternal grandparents are Tohdichinii (Bitter Water). Professionally, I have worked in schools and districts around the Four Corners area and within the Grant, Contract, BIE, and Public School systems. I hold a Bachelor's Degree, in Sociology/Human Services with a minor in Psychology, as well as a 2nd Bachelor's in Interdisciplinary Studies (Education), both from Fort Lewis College and a Master's Degree, in Administrative Leadership, from University of Northern Colorado. In all, I have educational experience in the elementary level, as a parent educator, paraprofessional, certified teacher, reading instructional coach, mathematical instructional coach, Acting Principal, and Principal. In all, I have over 20 years of experience working with families and in education.
Besides classroom teaching, I have provided leadership at the building and district levels as a School Improvement Facilitator and Lead Teacher. In addition, as part of the school improvement team member, at a BIE school, maximum efforts were achieved to increase student achievement.
Other areas of knowledge are within: inclusive classroom instructional strategies, leadership practices that promote increased student reading skills, and organizational processes that enhance school student achievement.
---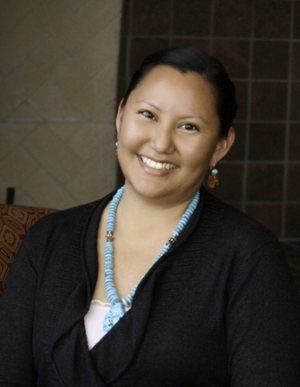 Catherine Montoya (Diné) is Dibé Łizhiní from Tse'Da Tah near Lupton, Arizona. She received her Bachelors in Native American Studies from Dartmouth College and earned a Masters in Public Administration from the University of New Mexico. She has worked in higher education since 2004, first at the University of Notre Dame, then later came to the University of New Mexico in 2007, where she is currently the Student Programs Specialist for Native American Studies.
---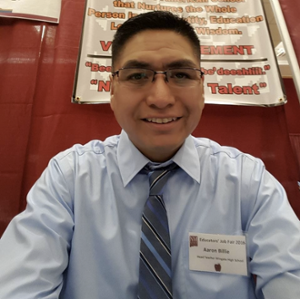 My name is Aaron Billie. I am Navajo born into the Black Streaked Wood People for the Folded Arms People. My maternal grandparents are the Towering House People and my paternal grandparents are the Meadow People. I am from the community of Red Rock and currently employed at Wingate High School. My philosophy that learning never ends has been the catalyst in my pursuance of a doctoral degree. I am truly humbled.
---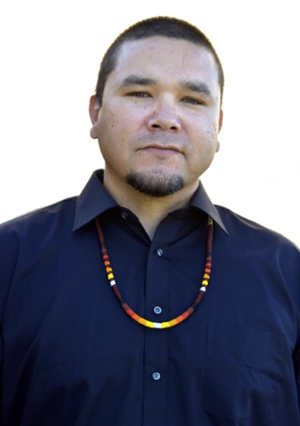 I am Chippewa and Cree from the Rocky Boy Reservation in Northern Montana. I earned my Bachelor's Degree (Elementary Education) and Master's Degree (Curriculum and Instruction) from the University of Montana. In 2014, I earned my Master's Degree in Educational Leadership from the University of New Mexico. Early in my teaching career I taught 3rd Grade students in Phoenix, AZ and I taught 2nd Grade students in my hometown of Box Elder, MT. In 2011, my family and I made the journey to Albuquerque, NM to work at the Native American Community Academy (NACA). This year, I will be serving as the Head of School for NACA Elementary. My wife, Sophia, and I have three kids; Rebecca, Aidan, and Claire.
---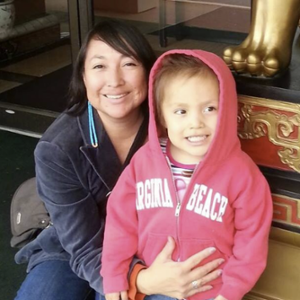 Jodi Burshia (Laguna Pueblo, Diné, Hunkpapa Lakota) grew up on the Tohono O'otham reservation in southern Arizona. She attended the University of Arizona in Tucson where she earned a BA and MA.Ed before moving to Albuquerque to be closer to her home community of Laguna and pursue doctoral studies. She loves working in the classroom and has been an educator since 2000. She has a daughter that is the light of her life and keeps her on her toes!
---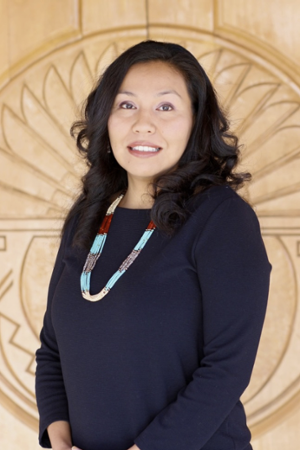 Kim is excited to start the Native American Leadership in Education program. In addition to her academic studies, Kim is the Director of Training and Development with the Coalition to Stop Violence Against Native Women. Her experience includes managing a national Native non-profit organization, acting as an Education Liaison for a tribal education department, and serving as a Senior Program Manager at a higher education institution. Kimberly graduated from The Evergreen State College with a Master's of Public Administration degree with a Tribal Governance concentration and a Bachelor's of University Studies from the University of New Mexico. Kimberly is a citizen of the Navajo Nation originally from Tse' Daa K'aan, NM.
---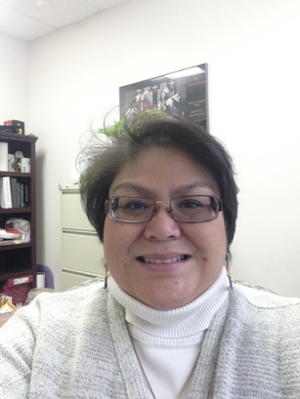 My name is Cynthia A. O'Dale-Higgins, I am Dine' from TiisNazBas, AZ and Aneth, Utah. My four clans are Many Comanche Warriors Clan adopted by Yucca Strung Out on a Line (Hashk'ąą Hadzohí-Naałani Dine'é), born for Water Edge (Tábąąhá), my maternal grandfather is the Salt Clan ('Áshįįhí) and my paternal grandfather is Folded arm (Bit'ahnii).
My undergraduate degree is in Elementary Education/Bi-Cultural Studies from Fort Lewis College, Durango, CO. A Graduate Degree from University of Northern Colorado, Greeley, CO., in Reading. My career in Education began with Head Start, as a Family Community Partnership Specialist, K-8 Teaching, 8th, 2nd and 4th. , Director of Higher Education for the Ute Mountain Ute Tribe, Community Outreach for STEM Industry for Navajo Technical University under their National Science Foundation T-CUP Grant and finally my current position as a Education Specialist SR. and Instructor at Utah State University-Eastern in the development, recruitment and retention of Teacher Education majors.
My family is my cornerstone, my daughter Amanda & Sammy and their two wonderful boys, as well as my nephew Cody. My mother, who is the constant voice of remembering why we are on this journey. I cannot imagine succeeding without their support as I travel around the sun every day.